Nestled between the Amerindian villages of Annai and Rupertee where the Pakaraima foothills meet the tropical rainforest, Rock View Lodge offers comfortable lodging, outdoor and cultural activities, authentic Amerindian hospitality, and access to everything else that central Guyana has to offer. Experience the Lodge!
Three Decades of Hospitality
Rock View Lodge has been welcoming visitors to the savannahs and rainforests of Guyana's Rupununi since 1992. Our mission – from the very beginning – has been to provide an unparalleled hospitality experience while supporting the cultural, educational, and economic development of the region.
Rock View Lodge is an integral partner with the local Amerindian community to build economic opportunities, provide professional development, preserve traditions, and improve a sustainable tourism infrastructure in Guyana's pristine interior. One prime example is the CATS partnership which operates the Iwokrama Canopy Walkway.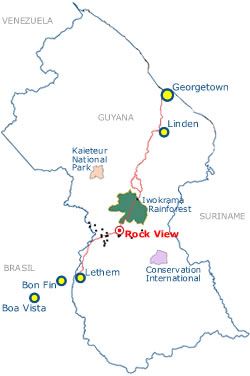 Rock View Lodge is nestled between the Amerindian villages of Annaiand Rupertee on the North Rupununi Savannahs of Guyana, where the foothills of the Pakaraima mountain range meet the tropical rainforest
Visitors are accommodated in comfortable, well furnished, self-contained suites. We have a Toyota Hilux pickup, a four-wheel drive Bedford truck, horses, bicycles and boats for your transportation needs and requirements. Read more about the lodge and the activities we offer.
Evenings may be spent in the old family ranch house with a fine art collection, library and good music. All buildings have electricity and running water from a deep well. The grounds are beautifully landscaped with hundreds of palms, fruit and flower trees that enhance the natural beauty of the rolling hills and savannahs, the Rupununi River and wooded mountains nearby. Read about the lodge's facilities and the activities on offer to all guests.