An oasis in the heart of the Rupununi
The perfect starting point to explore the pristine rain forests and savannahs of Guyana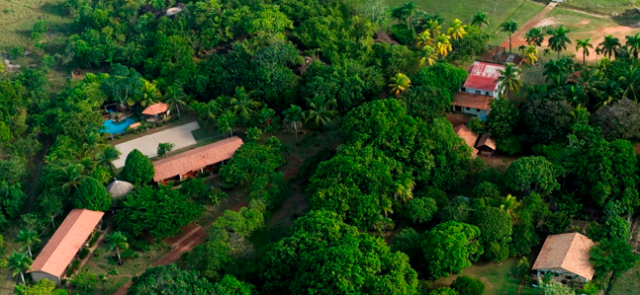 Central Guyana's most comfortable lodge
Delicious homestyle meals, hot showers, comfortable beds, and lush grounds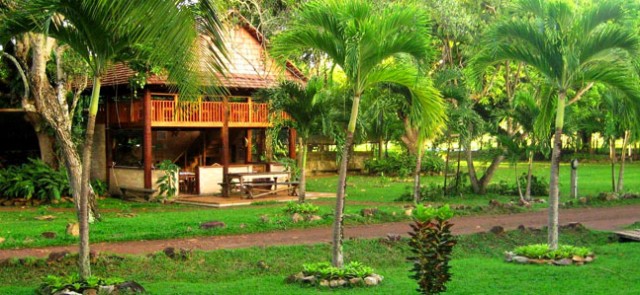 Unexpected comfort and luxury
Relax in the pool, sip aged rum, and rest up for the next phase of your adventure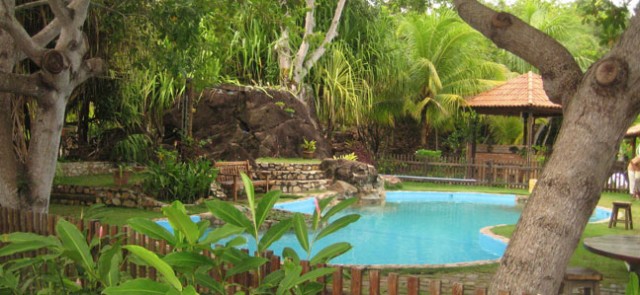 Amerindian Makushi Culture
Explore festivals, music, traditional crafts few outsiders will ever see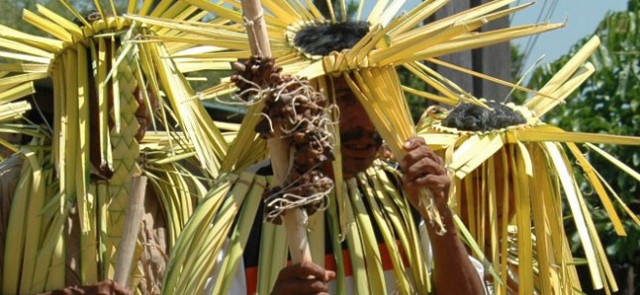 Annual Music and Arts Festival
Rock View hosts the annual festival celebrating culture, heritage, and all art forms, bringing together contemporary and traditional styles.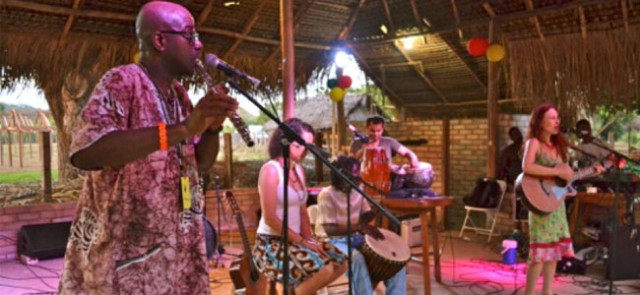 Transportation Crossroads
Accessible by daily air service from Georgetown, with ground connections to the rest of Guyana and Brazil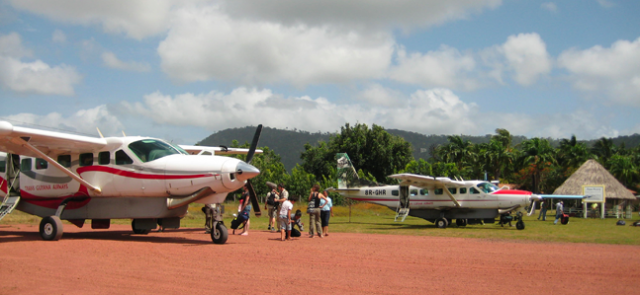 Feel you're part of the family
You'll be welcomed and treated as guest, not a client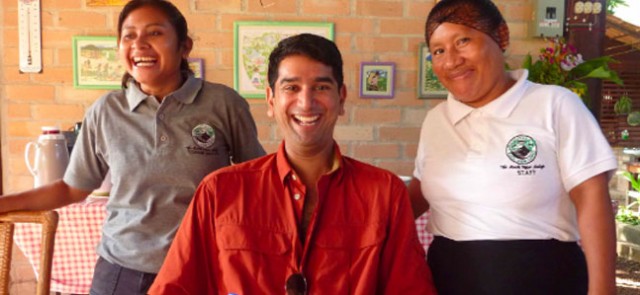 Amerindian Hospitality
Our staff, guides, and neighbors welcome you to explore their land and their way of life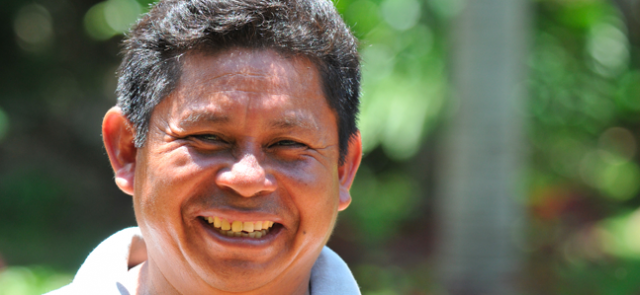 Remarkable flora and fauna
From jaguars to colorful beetles to the world's largest lilies, prepare to be amazed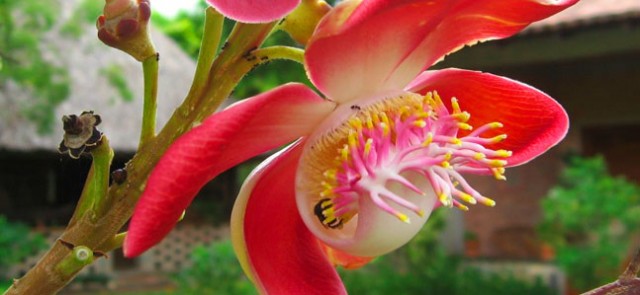 Birdwatcher's Paradise
Our guides help you track down some of Guyana's 800+ species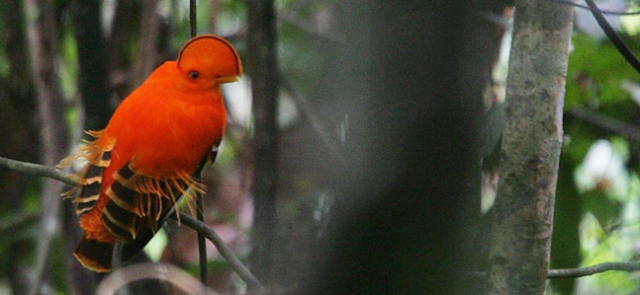 Rock View Lodge
Nestled between the Amerindian villages of Annai and Rupertee where the Pakaraima foothills meet the tropical rainforest, Rock View Lodge offers comfortable lodging, outdoor and cultural activities, authentic Amerindian hospitality, and access to everything else that central Guyana has to offer. Experience the Lodge!
20 Years of Hospitality
Rock View Lodge has been welcoming visitors to the savannahs and rainforests of Guyana's Rupununi since 1992. This year is full of celebrations as we welcome our friends and partners from across the country – and globe – to mark this important milestone! Learn more about our long relationship with Guyana and the Rupununi.
Videos and pictures from the Rupununi Music and Arts Festival!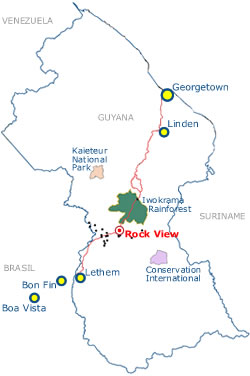 Rock View Lodge is nestled between the Amerindian villages of Annai and Rupertee on the North Rupununi Savannahs of Guyana, where the foothills of the Pakaraima mountain range meet the tropical rainforest. The Iwokrama International Centre Field Research Station, the Canopy Walkway, the fourteen villages of the indigenous Makushi people, excellent birding locations and other resorts such as Karanambu Resort and Cattle Ranch are easily accessible from Rock View. The Lodge may be reached by air or road from Georgetown and Brasil (Boa Vista and Bon Fin) and our Transportation page can show you exactly how to get here.
Visitors are accommodated in comfortable, well furnished, self-contained suites. We have a Toyota Hilux pickup, a four-wheel drive Bedford truck, horses, bicycles and boats for your transportation needs and requirements. Read more about the lodge and the activities we offer.

Evenings may be spent in the old family ranch house with a fine art collection, library and good music. All buildings have electricity and running water from a deep well. Wireless internet access is available for several hours each day across most of the property. The grounds are beautifully landscaped with hundreds of palms, fruit and flower trees that enhance the natural beauty of the rolling hills and savannahs, the Rupununi River and wooded mountains nearby. Read about the lodge's facilities and the activities on offer to all guests.

Rock View Lodge is managed by the owner, Colin Edwards, an Englishman who has been closely associated with Guyana since he came here as an agricultural volunteer in 1969. Some pictures from his personal album are on our History page. His love for the Guyanese interior, the arts and the people of both Guyana and Brasil may be seen in this unusual lodge and working farm which is both environmentally friendly and has a special relationship with the community development efforts of the surrounding Amerindian villages. The efficient and friendly staff are both members of the family as well as neighbours around Rock View. They are mostly trilingual, speaking a combination of English, Portuguese and their native Makushi language.
The Rock View Lodge together with the Village of Surama are featured in "Green Places to Stay", a U.K. tour guide published by Alastair Sawday, which recommends inspiring places worldwide that are striving to be environmentally and socially responsible. We're rated on TripAdvisor and you can also join us on Facebook!
Live View from the grounds of Rock View
This live stream is an experimental project to connect the world in real time to the people and places that make up the Rupununi. (more) Look dark? Remember we're GMT-4.